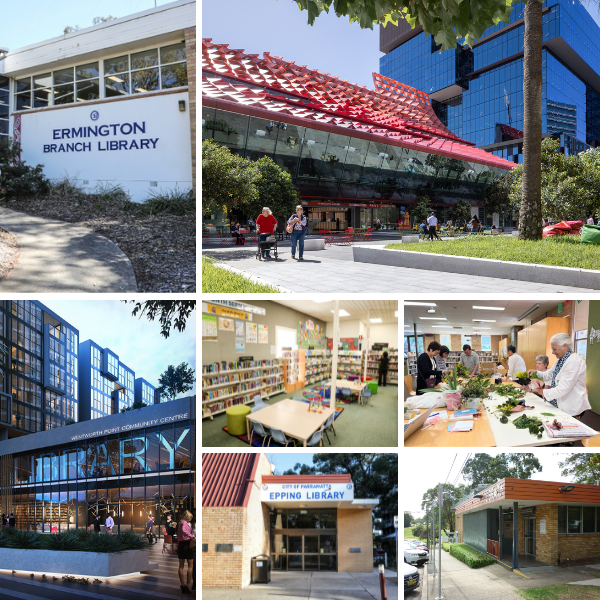 Library Opening Hours Survey
Did you notice the recent extension of our library opening hours? What do you think of the new library opening hours?
Complete this short survey today to let us know your thoughts and have a chance to win one of two $100 Gift Cards.
The opening hours of all seven City of Parramatta libraries (Carlingford, Constitution Hill, Dundas, Epping, Ermington, Parramatta, and Wentworth Point) were extended on 30 January 2023, with a total of 47 additional hours across the seven libraries. We would like to know your feedback on this change and what impact it has had on your library experience.
The survey is open for a limited time only and we thank you in advance for your valuable feedback.

Join us on Saturday 23 September for a day of birthday celebrations – performances, circus skills, craft, cupcake decorating, ideas, stories, tastings, music, tours and more. 
September is Library Health Month

This month, City of Parramatta Libraries in partnership with Western Sydney Local Health District present Spring into Health, as we celebrate Health Month. There will be a range of activities and information sessions to help you and your family become healthier. We will have sessions to guide your understanding of breastfeeding, immunisation, diabetes, stroke, healthy eating. and more. You can also attend a VR fitness activity, have your hearing checked, or bring your kids to a Sydney Thunder event.
Book your spot now. 
Explore City of Parramatta Libraries website for free NSW Health programs, healthy tips, free workshops and loads more! 
View our past editions -
February 22, March 22, April 22, May 22, June 22, July 22, August 22, October 22, November 22, December 22
February 23, March 23, April 23, May 23, June 23, July 23, August 23