City of Parramatta green programs win gold at the Local Government NSW Awards
Two of the City of Parramatta's innovative environmental sustainability programs have been recognised at the 2022 Local Government NSW's Excellence in the Environment Awards.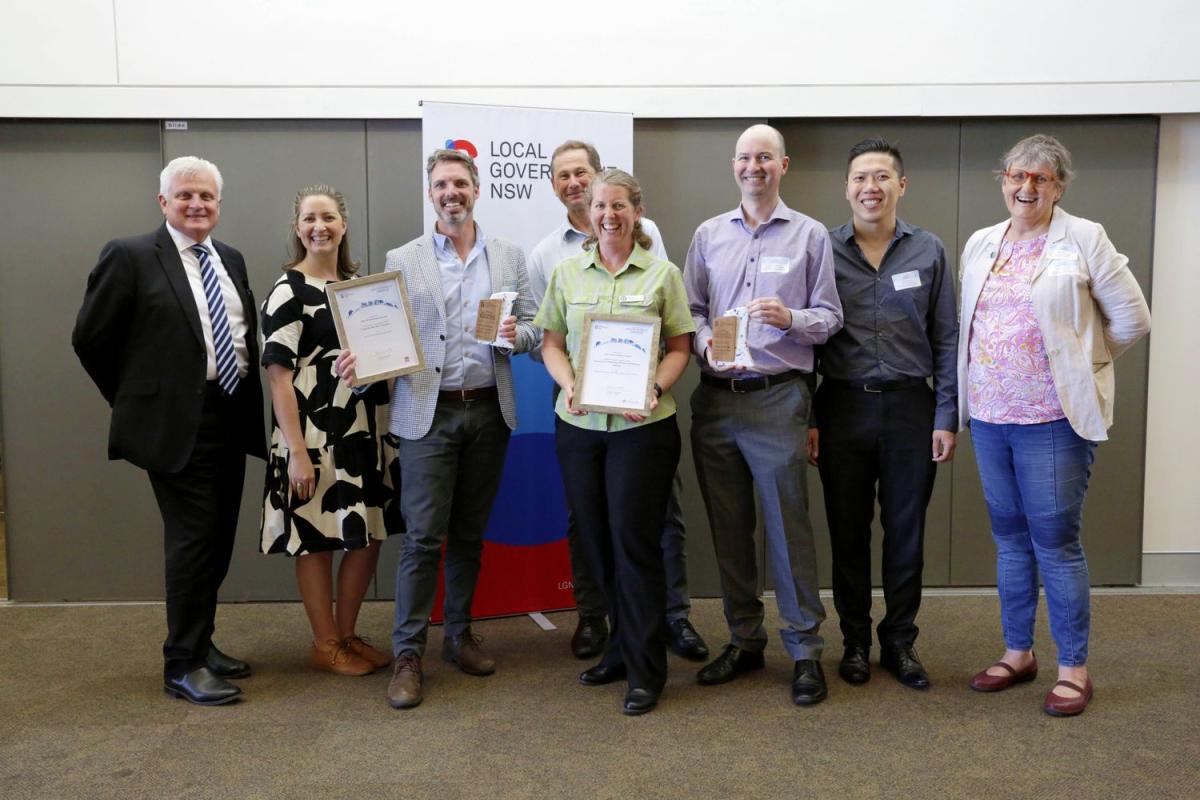 Our 'Electric Vehicles: Driving a Sustainable Future' program took out the award for Innovation in Planning, Policies and Decision Making, while the 'Smart LED Streetlighting Project' won the Towards Net Zero Emissions category.
These exciting projects, created as part of the City's Environmental Sustainability Strategy demonstrate City of Parramatta's leadership in environmental planning and performance and have already delivered benefits to our community including reducing emissions, pollution, and creating new economic opportunities for our City.
Partnering with Endeavour Energy, the electricity network powering Greater Western Sydney, the $4m project will see more than 3,000 lights upgraded to high-performance and energy-efficient smart LED streetlights.
As of 23 March, 1,500 lights have been installed on main roads in Toongabbie, Winston Hills, Northmead and North Parramatta with a further 1,800 upgraded by the end of June 2022. 
New streetlights are equipped with smart technology that will allow Council to lower lighting levels where and when it is deemed appropriate. Council is currently undertaking a detailed lighting design to establish appropriate dimming levels for each light.
While final lighting levels will meet Australian Standards, it is expected Council will be able to reduce the light output between 8% and 50+%. The dimming process will be finalised in June, this will help reduce light pollution and provide additional energy savings.
Our streetlight network
On completion of the project, 75% of Council's street lighting network will be energy efficient. 53% streetlights (8,122 residential lights) were upgraded between 2015 – 2021.
Which roads and streets will be upgraded?
Between 2014 and 2021, Council upgraded 8,114 residential streetlights (53% of the total street lighting network) with energy efficient LEDs. This project provided projected savings of more than $7 million and 41,000 tonnes of CO2 over the lights' forecast 20-year life span.
The new LED residential streetlights are powered by a mere 17, 22 or 33 watts of electricity while older streetlights used 95 or more watts to achieve the same level of lighting.
6,719 of the lights were upgraded within the Endeavour Energy network as part of the Light Years Ahead project, a regional partnership project coordinated by the Western Sydney Regional Organisation of Councils (WSROC).
1,395 of the lights were upgraded within the Ausgrid network as part of the Streetlighting Improvement Program project, a regional partnership project coordinated by the Southern Sydney Regional Organisation of Councils (SSROC).
The upgrades are part of Council's commitment towards our long-term target to reduce carbon emissions by 60% by 2038 (based on 2015 levels).
 
For more information
Contact the Environmental Outcomes Team on 9806 5620 or environmentallysustainable@cityofparramatta.nsw.gov.au