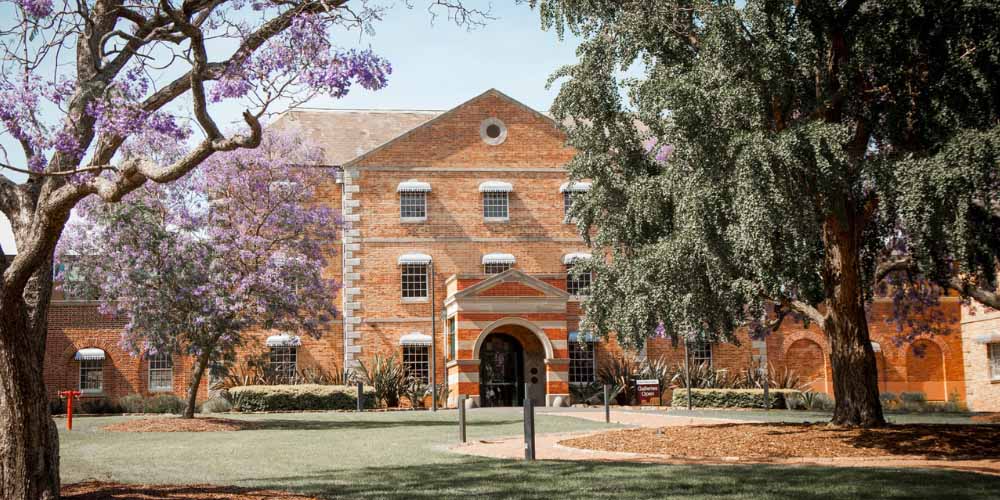 Explore the fascinating and layered history of Australia's oldest three-story building, and what its subsequent restoration has taught us.
Our Saturday tours will be led by guides who have a long association with the building and a passion for telling its stories. 
BUILDING INFORMATION
Predating the Hyde Park Barracks in the city, the Female Orphan School on the Western Sydney University campus is Australia's oldest three-story building. Its site along the Parramatta River was chosen strategically as part of the decision to move the then Orphanage for Girls away from Sydney Cove and the corrupting influences of urban life. 
Construction of the large Palladian-style building began in 1813, overseen by Governor Lachlan Macquarie. Its design is said to have been inspired by Airds House, the childhood home of Macquarie's wife, Elizabeth. Some early additions were designed by Macquarie's first Colonial Architect, Francis Greenway. The building served as a school for orphans and an annexe of Rydalmere Psychiatric Hospital, among other uses, until it was abandoned in the 1980s. It lay derelict until Western Sydney University began its restoration and adaptation through a series of projects commencing in 2000, ultimately earning a UNESCO award for Culture Heritage Conservation.
In its latest incarnation, the building now houses the Whitlam Institute at Western Sydney University, incorporating a gallery, exhibition area, archives, meeting spaces and offices.
Built: 1813
Architect: Overseen by Lachlan Macquarie, with initial revisions and additions by Francis Greenway
Awards: UNESCO award for Culture Heritage Conservation 2004
SESSION TIMES
Saturday 4 February: 10:30 am, 11:45 am, 1:00 pm and 2:15 pm
Saturday 4 March: 10:30 am, 11:45 am, 1:00 pm and 2:15 pm
Saturday 1 April: 10:30 am, 11:45 am, 1:00 pm and 2:15 pm
SESSION COST
Tickets: $10