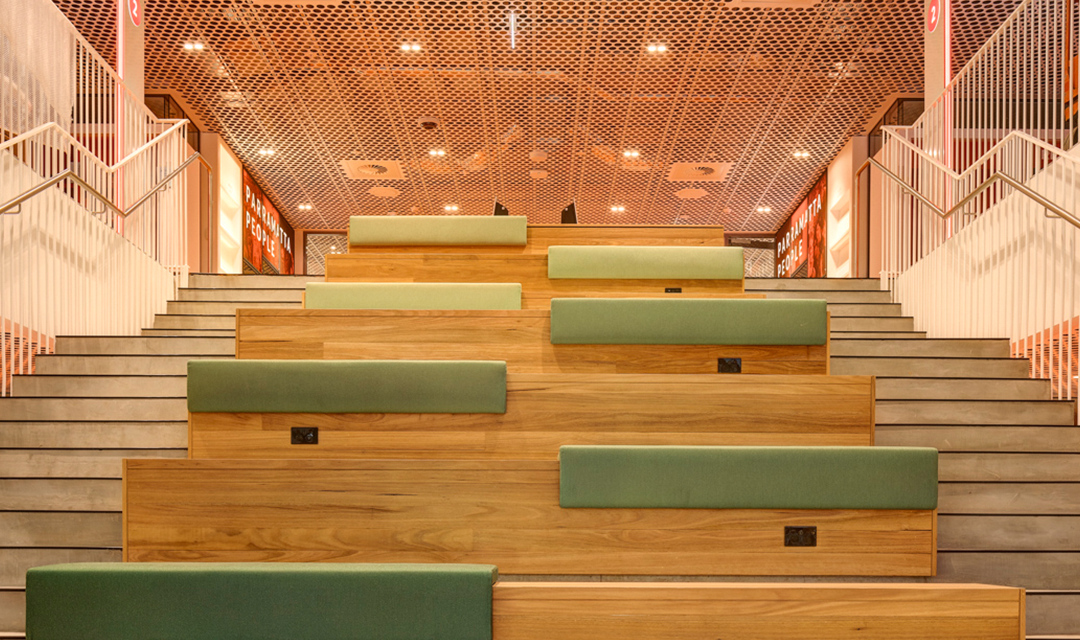 Find Your Space at PHIVE
Welcome to Parramatta's new community, cultural and civic hub. 
Our doors are now open!
Visiting PHIVE, the Library, exploring the artworks, community and cultural spaces is free, and so are many of our events and programs.
Opening Hours

Monday to Thursday: 9am – 8pm
Friday to Sunday: 9am – 5pm

Christmas Operating Hours

| | |
| --- | --- |
| 23 December | 9am to 5pm |
| 24 December | 9am to 1pm |
| 25 December | CLOSED |
| 26 December | CLOSED |
| 27 December | 9am to 5pm |
| 28 December | 9am to 5pm |
| 29 December | 9am to 5pm |
| 30 December | 9am to 5pm |
| 31 December | 9am to 1pm |
| 1 January | CLOSED |
| 2 January | 9am to 8pm |

Parramatta Square Car Park is now open!

Conveniently located for exploring Parramatta's newest library and community hub, and perfect for visiting Parramatta Square's restaurants and businesses.

Located on the corner of Smith & Darcy Streets, this state-of-the-art car park offers 24/7 access, accessible parking, ticketless and cashless convenience, and competitive short-stay pricing.

Learn more at City of Parramatta's Car Park Finder

Parking Rates

| | |
| --- | --- |
| 0 – 1 Hour | $5.00 |
| 1 – 2 Hours | $10.00 |
| 2 – 3 Hours | $25.00 |
| 3 - 4 Hours | $40.00 |
| 4 – 5 Hours | $55.00 |
| 5 – 18 Hours | $70.00 |
| 18 – 24 Hours | $80.00 |


*Rates apply from time of entry to time of exit.
Entry is subject to the Terms and Conditions located at entry.

PHIVE is easily accessible by car, taxi, bus, train, RiverCat, bike, or on foot.

Parking

A new Car Park in Parramatta Square is now open. This Car Park is open 24 hours a day. Entry will be from the corner of Smith and Darcy streets.
Parramatta Station Car Park, located at 17 Wentworth Street, is the largest and nearest carpark to Parramatta Square. This carpark is open 24 hours and is an approximate 5 minute walk to Parramatta Square.
Limited metered street parking is available around Parramatta's CBD.

Learn more at City of Parramatta's Car Park Finder

Taxi

A taxi rank is located near Parramatta Railway Station on Fitzwilliam Street, between Fire Horse Lane and Wentworth Street, Parramatta. It is approximately 500 metres from PHIVE.

Public Transport

Approximately 200 metres from Parramatta Train Station
Less than 300 metres from the Parramatta Bus Interchange.
A 10 minute walk from Parramatta RiverCat Ferry Wharf

PHIVE is committed to providing universal access to all members of our community, including those with disabilities. All public spaces within PHIVE are accessible.

Parent & carers facilities

A Parents Room with fully accessible baby changing facilities is located near the Children's Library on Level 1.
Prams are permitted on all floors of PHIVE.
Pram parking is available near the Children's Library on Level One.

Accessible adult changing facility

An accessible Adult Changing facility is available on the basement mezzanine level. This can be accessed via the lift from the ground floor.

Access

All public entrances to PHIVE are wheelchair accessible.
All levels of PHIVE are wheelchair accessible by internal lifts or ramps.
Accessible toilets are available on all floors.
Inside PHIVE, if you require assistance, please contact any of our uniformed friendly Customer Service team members located on the ground floor and throughout the building.

Assistance animals

We welcome guide dogs, hearing dogs and trained assistance dogs

Hearing augmentation

PHIVE features a WiFi hearing augmentation system, allowing visitors to connect to audio zones within the building via an app on their smart device. This app can be downloaded for free on our Public Wi-Fi service. Once connected, look for rooms, visitors will be able to hear the display audio in rooms featuring a QR code. This service is available in enabled meeting rooms, our Discovery Space, Library Amphitheatre, Library TV, Library Children's Room and Council Chambers.
For visitors without a smart device, a limited number are available for loan from the customer service des

Rest and refreshments

There are many places to sit and rest throughout PHIVE.
Our café will soon be open with dine-in, grab-and-go and click-and-collect options.

Opening soon.

Publique Eatery will soon be open with table service and an 'a la carte' menu, as well as 'at the counter' and click-and-collect options.

PHIVE is proudly part of the Welcome Here Project. LGBTIQ+ diversity is welcomed and celebrated at PHIVE. At PHIVE we pride ourselves on creating and promoting a safe environment for everyone.

Deliveries to PHIVE are only permitted via the Loading Dock, located at 2 Civic Place, Parramatta (off Macquarie Street).

For the comfort, safety and enjoyment of everyone at PHIVE, we have Conditions of Entry. These apply to everyone attending PHIVE, including general public, visitors, contractors and staff.